Simple Striped Vest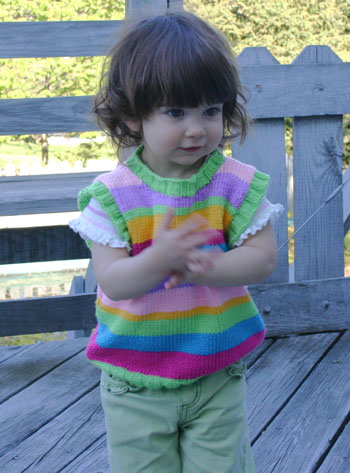 Yet another stash-buster project. I was browsing through this pattern book after finishing up the Sailing Away sweater, found this pattern, and managed to go stash diving and find more than enough yarn to make a vest for Carrie. In fact, I imagine I could make dozens of these - one for every toddler I know - just out of the leftover DK washable yarns from all the other baby and toddler sweaters I've made.

It was a super quick knit. It only took close to two weeks because I was busy with other things. If pressed for a handknit gift, especially for the smaller sizes, I could easily finish one inside a week.

Speaking of sizing, I went with the 2-3 year size. It's a bit big, especially in the armholes and neckband, but it's not tremendously baggy and I think there's enough growing room that Carrie will be able to wear it next year as well. It's meant to be worn sleeveless, and it totally clashes with those green capris, but I wanted to get some model shots. I think it would look cute over a mock turtleneck in the fall, too - kind of preppy.

Let's see, I think this makes five patterns I've knit out of this book...