Starry Starry Night
Project Stats
| | | | |
| --- | --- | --- | --- |
| Pattern: | my own design | Started: | 7/26/2003 |
| | | Completed: | 8/16/2003 |
| | | For: | Henry |
Recipe for a quilt:
Take a pile of fabrics, a sewing machine, some fusible web.
Throw in a rotary cutter and a steam iron for good measure.
Stir it together for three weeks, and you get...
"Starry Starry Night"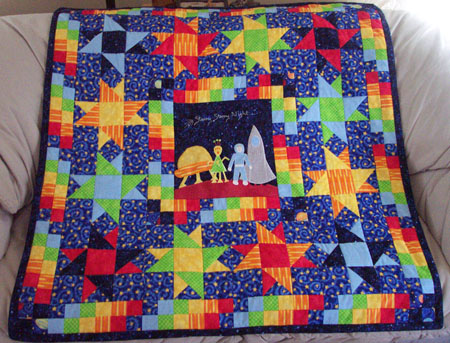 This quilt is for my one-year-old Godson, Henry. His mom, Lisa, wants to make his room space-themed - which, by the way, is the coolest idea ever - so I figured I'd help out a little!
Here are some little details that I love about this quilt.
The label says:


"Starry Starry Night"
Made for: Henry
By: "Aunt" Sarah
Happy 1st Birthday!
August 18, 2003

It also has 2" squares of each of the fabrics tucked behind it, so if the quilt ever needs repairing, there are fabric scraps which have been washed as many times as the quilt has.

It's hard to see, but I learned how to free-motion quilt - drop the feed dogs on the sewing machine, put on the darning foot, and go! This also shows the neat space fabric I used for the backing.

Hanging tabs...gives the option of hanging the quilt instead of putting it on the bed:

And the finishing touch, made from leftover 2" strips from the borders: