My Handmade Christmas, 2005
Project Stats
| | | | |
| --- | --- | --- | --- |
| Pattern: | various | Started: | 11/2005 |
| | | Completed: | 12/2005 |
| | | For: | various people |
For Christmas this year I made almost all of the gifts. Most of them were a lot of fun to make, but I wish I'd started a little earlier! For 2006, I'm starting in February! Without further ado, here are my twelve gifts of Christmas:
Twelve Dozen Cookies
I think it was actually more than that, but I gave away about 12 dozen. I tried some recipes from my Better Homes & Gardens Christmas Cookies magazines - I've been collecting them for years. It's the first time I've frozen cookies rather than making them the night before I've needed them - but it's also the first time I've given cookies as gifts. It actually worked really well.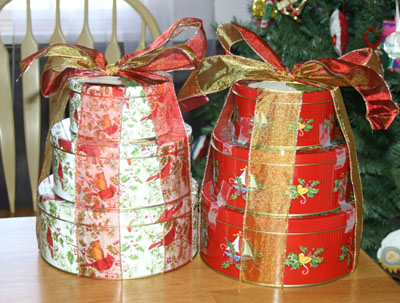 Eleven Jars of Jam
We used
Jenny's pepper jam recipe
and made a batch. I guess our peppers were too big though, because besides the 11 jars we gave away, I got a twelfth (jelly) jar, three freezer jam containers (8 oz. each), and a couple of containers of overflow that I kept in the fridge...until we ate them the next day. Not that we minded, though, because it came out delicious!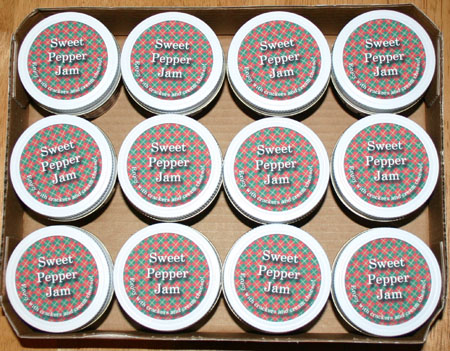 Ten Fluffy Sheep
A flock of fluffy yarn sheep! I used
this pattern
, and my niece Lizzy helped me trace and cut out the sheep bodies. I think if I did them again I'd coat the bodies with white glue before wrapping them - the yarn kept slipping off of the sheep butts.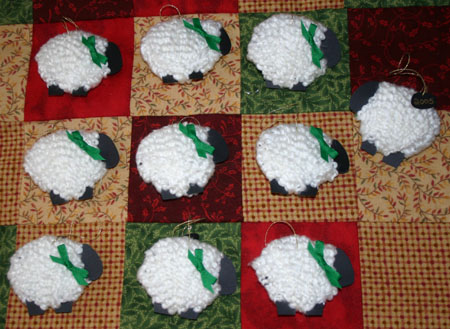 Nine Pretty Dishcloths
OK, so there are only seven in the picture, but I did knit the other two, and got them done just in time! The variegated ones are just plain garter stitch, the solid ones are a pattern called
chinese waves
- I modified the pattern on that page so that I could knit it corner-to-corner.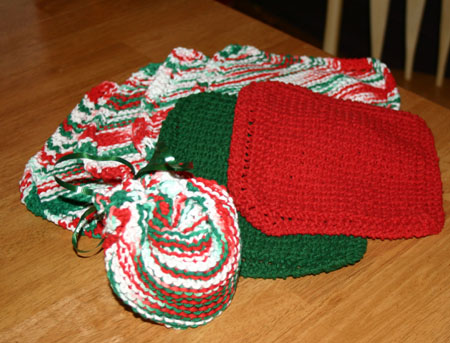 Eight Bath-time Duckies
I really wanted to make matching washcloths, but sewing the edging on the towels was miserable, so I bought rubber ducks to go with them instead. I am very pleased with how the towels came out, though - aside from the fact that the edging looks like I was drunk while I sewed it on... The pattern is
here
.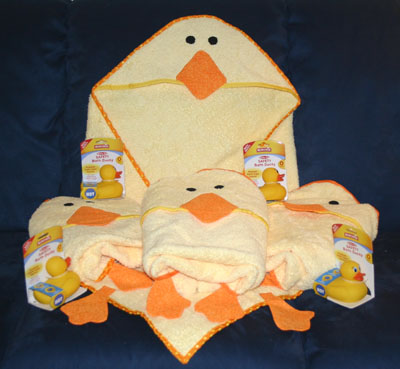 Seven Little Rag Dolls
Well, Carrie's doll is still nekkid, so she's not in the picture. I used
this pattern
for the bodies of the dolls, although I modified them a bit so both legs were straighter. I ended up having to use a purchased pattern to make the dresses, as the clothing patterns included with that doll pattern were so much smaller than the doll it was a joke. The faces are embroidered on, and the wigs are courtesy of the most fantastic booklet on doll hair ever, which can be obtained
here
.


From left to right: Michelle & Lizzy, Abby & Phillip, Katie & Valerie.
(Click on the names to see close-ups of those dolls.)
Six Dozen Fudge Treats
I made mint fudge as well to give away. It was yummy, but almost too sweet. I'll be looking for a new fudge recipe next year I think. (No picture for these, as they were in the tower of treats with the twelve dozen cookies.)
Five C-A-R-O-L-Y-N Pictures
In the grand tradition of the
D-A-D-D-Y pictures
, we decided to make C-A-R-O-L-Y-N pictures for Carrie's grandparents and great-grandparents...and us, of course! The photoshoot consisted of me chasing Carrie around the backyard, pleading with her to hold letters instead of tasting rocks. It was much easier to get good pictures of her when she wasn't walking! We also had a lot of trouble attaching the frames to each other, trying several types of glue and a couple of different staple guns before we finally found a workable solution.

Here's
a composite
of the pictures which is a bit easier to see. (Taking a picture of a picture isn't all that easy!)
Four Gifts In A Jar
Painted Desert Chili and Rainbow Bean Soup. Mmmm.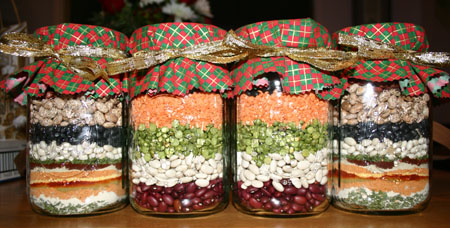 Three Cookie Plates
I painted "Cookies for Santa" plates for Denis' sisters and for us. I didn't take a picture of ours, but it's pretty much exactly the same as these two.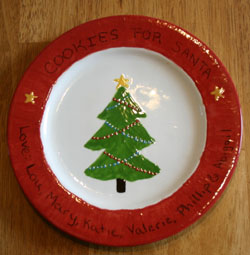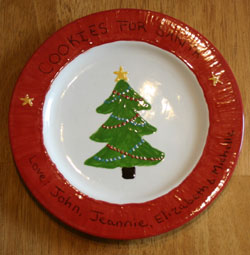 Two Quilted Throws
I was planning to tie these instead of quilt them, but I bought the wrong kind of batting and decided to go ahead and machine quilt them. I'm really pleased with how they came out, but it took so long that they were a few days late... They're just a simple patchwork, which I tried to make fairly random - the squares are 4" finished size and the quilts ended up about 40" by 52".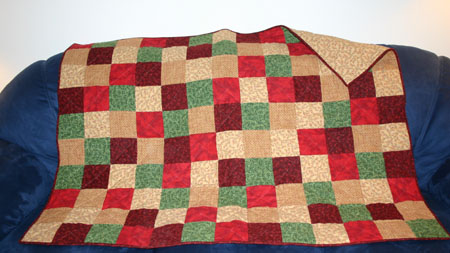 One Hat & Mitten Set
I absolutely love
this pattern
, and may need to make a set for myself someday! The
knitpicks yarn
I used for it was really lovely to work with.