FLAK, a.k.a. The Aran Sweater the Entire Internet is Knitting
Project Stats
| | | | |
| --- | --- | --- | --- |
| Pattern: | can be found here | Started: | 2/12/2006 |
| Yarn: | Knit Pick's Wool of the Andes, avocado | Completed: | |
| Needles: | US 4/3.5 mm Addi Turbos | For: | me!!! |
3/3/06:
I wasn't sure how I wanted the center of my cardigan to look, so I knit each side differently, figuring I could rip out the side I didn't like as much: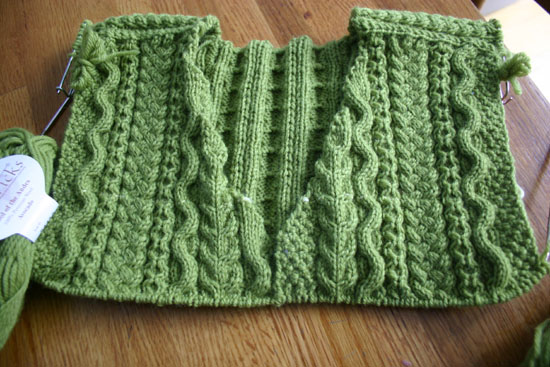 I've decided to go with the left front, using the moss stitch filler instead of the wave cable right next to the button band. Luckily, I thought ahead and put in a lifeline at the decision point (that's what the little yellow "blips" across the knitting are) so ripping and reknitting the right front should be easy!
---
2/19/06:
I received my yarn order very quickly (thank you KnitPicks!), and finally had a chance to sit down and start the saddles last Sunday. A week later, I'm only about 2" away from the armhole depth on the back!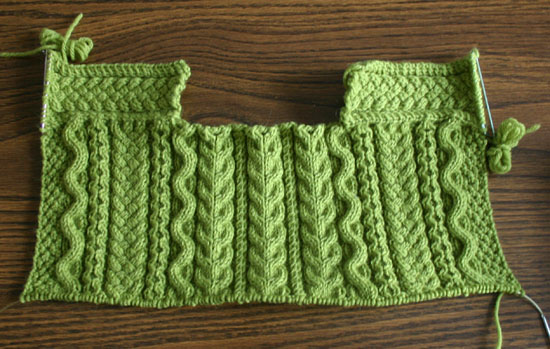 I couldn't find enough stitch markers to mark each cable, and then I found that the ones I was using were bothering my hands while I worked anyway. So I took them all out about 5 rows into the project. I stopped looking at the pattern after row 12. Somehow, this is turning into my mindless zen-like project, even though it's anything but mindless.

I've learned two important things so far with thie project. First, even though I love symmetry, I like the cables to all "wave" the same way rather than mirroring them across the back. The other thing I've learned is how to spit-splice a new ball of yarn in. It sounds gross, but it's like magic and I won't have forty ends to hide when I'm done!
---
2/04/06:
I am in love with this project. Totally, completely in love. And all I've done so far is knit two swatches. Yes, two swatches, from the person who begrudges the knitting time to even knit half of a swatch before starting a project. This is my 100-stitch cable swatch. Only I miscounted and it ended up only being 99 stitches, but since it's only the swatch I decided not to worry about it - it's just one less stitch in the moss stitch part of the swatch.


The only problem I'm having so far, really, is the fact that I can't photograph this yarn to save my life. It's not as bright a green as the picture seems to indicate - although that is a very pretty color - but it's truly an avocado green as the name implies.