Blanket Poncho From Heck
Project Stats
| | | | |
| --- | --- | --- | --- |
| Pattern: | Patons Book 942, Wrap it Up! | Started: | 2000 |
| Yarn: | Patons Decor #1672 (grey heather) | Completed: | |
| Needles: | US 7s | | |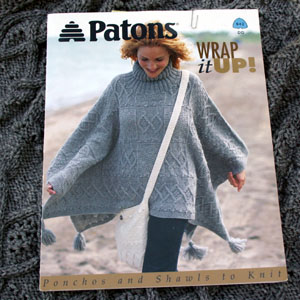 I think I saw this pattern in a Mary Maxim catalog at some point in the early summer of 2000. I ordered it, along with the yarn and needles, and got to work! It was my very first cabled piece, and I slaved over it.

This was before I learned how to make a gauge swatch.

Unfortunately, when spread out over 269 stitches, getting 18 sts/inch instead of 20 sts/inch makes an enormous difference. Enough of a difference, in fact, that not only would it be too big to wear, but I realized about 1/3 of the way through that I was going to run out of yarn! And so was born my very first (knitted) UFO. I shoved it in a basket, put it in the corner of the living room, and have ignored it ever since.

So here are what I think are my choices with this project:
frog the entire thing and donate the yarn somewhere
frog the entire thing, find a needle size that gives me the right gauge, and re-knit it
continue on these needles and turn it into a blanket instead of a poncho
put it back into its basket and ignore it for a few more years!

Here's what it looks like so far: