Rosebud
Project Stats
| | | | |
| --- | --- | --- | --- |
| Pattern: | Rosebud | Started: | 5/1/2004 |
| Yarn: | Sirdar Calypso | Completed: | |
| Needles: | US 5 Addi Turbos - 24" | | |

I will be knitting this as part of the Belly Time Knit-Along & Crochet-Along, start date 5/1/04. Join us!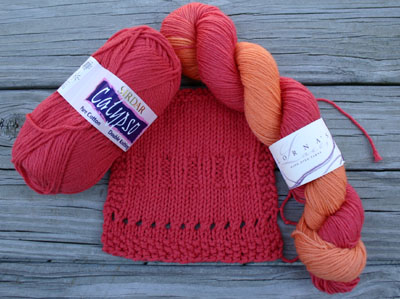 Isn't it pretty? I'm going to make Rosebud from the spring '04 Knitty as an actual maternity top - with a few changes, of course! My version is going to be all cotton, and short-sleeved so that I'll be able to wear it for most of the summer. By the end of the summer, I'm sure I'll have grown out of it, but that's ok - I'll be able to wear it again, hopefully! (Oh, and ignore the eyelets, I was playing with maybe doing a picot hem, but I don't think I will.)
The fantastic stripey yarn is sock yarn that matches. Mmmm.