Fair Isle Vest
Project Stats
| | | | |
| --- | --- | --- | --- |
| Pattern: | From Swatch to Blocking: An Adventure In Fair Isle | Started: | |
| Yarn: | Jaggerspun "Re-Dun" Digit Heather | Completed: | |
| Needles: | | | |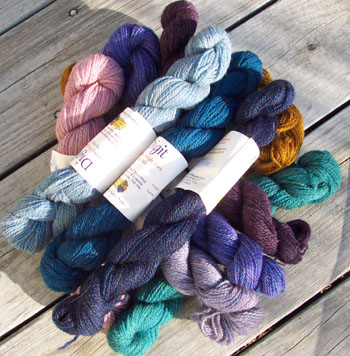 Mmmm, color. This will be the first fair-isle I've done in a while, and I've never done fair isle in fingering weight...size 3 needles?!? Should be fun!
My first swatch, below, was on the size 3 needles recommended. It's much larger than it should be. My choices are: re-swatch on smaller needles or make a smaller size (which should then come out to be the right size).
The fabric isn't as dense as I'd like, so I think I'll try swatching on size 2s. The only thing is, I'm worried that the swatches are going to take up too much yarn. So this picture is just for posterity - this poor little swatch is going bye-bye!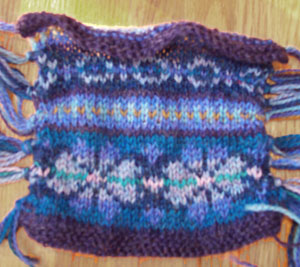 Do you like the pattern, though? I think it's really pretty, although the amethyst yarn (the darkest purple) is chameleon - it looks purple in some lighting, brown in others.