Bunny in the Red Dress (plus booties!)
Project Stats
| | | | |
| --- | --- | --- | --- |
| Pattern: | Nursery Knits (bunny), Adorable Knits for Tots (booties) | Started: | 6/23/2004 |
| Yarn: | Sirdar Snowflake (bunny), Katia Mississippi 3 (booties & dress) | Completed: | 8/5/2004 |
| Needles: | US 0, US 2 | For: | Simone |
I wanted to make something a little different as a baby gift this time. My mom had made one of these bunnies a couple of years ago, so I decided to try my hand at making a knitted stuffed toy. The dress is made-up, and took a few tries to get it right. Unfortunately, I was too busy making it to actually write down how I did it, so it's one-of-a-kind!
I sewed up the pieces inside-out, because I thought it looked less like a knitted texture then, and more like a fuzzy bunny. The only thing I'm not happy about is how the face embroidery came out. The mouth is such a pale pink it's barely noticeable. Oh, well. Next time I'll know better!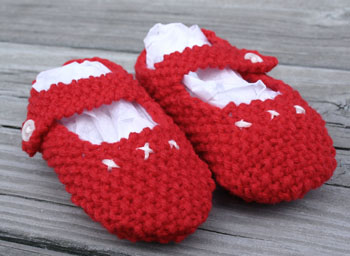 These booties had been admired in the book by the Simone's mom, so I thought they'd be perfect to include with the bunny. Obviously, the style was sort of an inspiration for the bunny's red dress. They were neat to knit, because they're done in one flat piece, then folded and seamed to form a three-dimensional bootie.