Teeny-Tiny Felted Gift Bags
Project Stats
| | | | |
| --- | --- | --- | --- |
| Pattern: | see below. | Started: | 12/6/2003 |
| Yarn: | Noro Kureyon | Completed: | 12/9/2003 |
| Needles: | US 10 Addi Turbo 24" circular | For: | Mary Ann & Rhonda |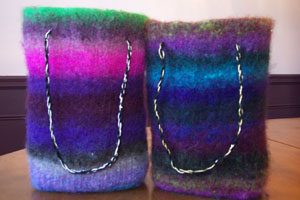 These were for my music director at church and the woman who sings with me at 8 AM mass. My goal was to use every last possible inch of yarn out of one skein of Noro Kureyon. They were filled with tasty chocolates (in a plastic bag, so there wouldn't be any melted chocolate accidents). The bags are big enough to use for little gifts: DVDs, CDs, books, sock yarn and needles, jewelry...you could even tuck a skein of Kureyon and some size 10 Addi's in, along with this pattern, so the recipient could make their own teeny-tiny felted gift bag.
Pre-felting dimensions: the bottom was 3" by 6", the bag was about 11" tall.
Post-felting dimensions: the bottom is 2 1/2" by 4 1/2", the bag is about 7 1/2" tall.

(I suppose they don't really qualify as teeny-tiny, but compared to the other felted things I've done, they're pretty small!)
The pattern is easy:
Gauge isn't particularly important, as long as it's loose - I was getting about 12 sts/20 rows to 4"
Cast on 18 stitches.
Knit (garter stitch) 18 rows.
Turn and knit one more row, then pick up and knit 9 stitches on the short sides of the rectangle, and 18 stitches on the cast on edge. There should be a total of 54 stitches on the needles.
Knit in the round until you have just enough yarn left to bind off (between 3 and 4 times the circumference of the bag). I used a k2tog bind off (k2tog, put resulting stitch back on left hand needle, repeat around), which I think results in a neater finished edge.
Weave in the ends.

Now, felt it. My washer takes two 16 minute cycles to adequately felt Kureyon (as in, there's no more stitch definition). I set it to hot wash/cold rinse, extra agitation, lowest water level. I throw in a small dollop (technical term) of laundry detergent. With stuff like this, where finished size isn't particularly important, I just let it go through the entire wash cycle, including the cold rinse and the spinning. Find a suitably sized box to block over - I actually used two VCR tapes covered in plastic wrap. (They have to be useful for something, right?)

For handles, make two lengths of twisted cord out of three strands of crochet cotton. Use a tapestry needle to pierce the bag about 1" from the top and 1" in from the corners on both long sides. Thread the cord from the inside of the bag, through one hole, then back through the other hole. Knot the ends of the cord on the inside of the bag.

There you go. Now you have your very own Teeny-Tiny Felted Gift Bags.
It should go without saying, as is everything on this site, this pattern is © 2003, Sarah Reilly. You are free to print and use this pattern, as long as you don't sell it, or sell the items you make from it.