Phillip's & Abby's Christmas Sweaters
Project Stats
| | | | |
| --- | --- | --- | --- |
| Pattern: | Patchwork Cable Set - Leisure Arts book "Beautiful Baby" | Started: | 5/25/2003 |
| Yarn: | Paton's Astra | Completed: | 11/14/2003 |
| Needles: | ribbing: size 2; body: size 3 | For: | Phillip & Abby |
Finished sweaters!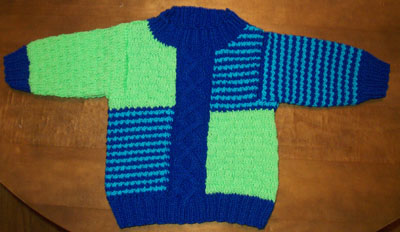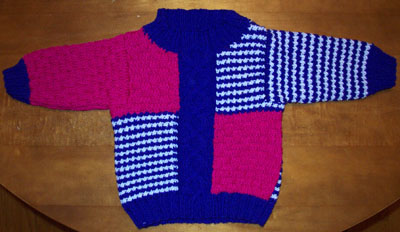 ---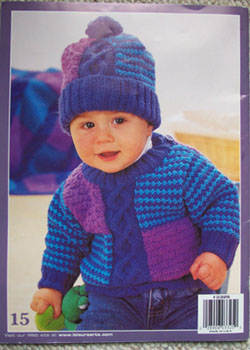 This year, I decided to start making Christmas gifts early! I found this really cute sweater pattern and the yarn at Smiley's, which is only a couple of blocks from Denis' parents house! (The store isn't nearly as "loud" as their website. <blink>)
I'm still debating about whether to make both sleeves the same, or make one of them out of the contrasting color and stitch. I'm also not planning on making the hat, unless for some odd reason I have lots of extra yarn.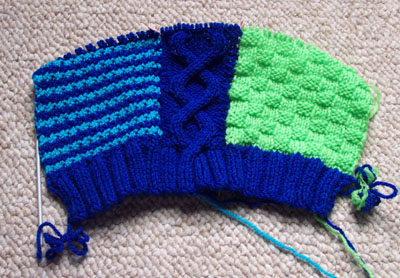 Here are the beginnings of Phillip's sweater. I'm only a few rows away from where the colors switch. Note that the lime green is really much more spectacular than that - this was the best picture I could get, even in natural light. Oh, well. This is a fun pattern, but time-consuming...the stripes are really this odd stitch that's kind of hard to do, and it makes for a fairly dense fabric. Needless to say, I'm glad I started these early!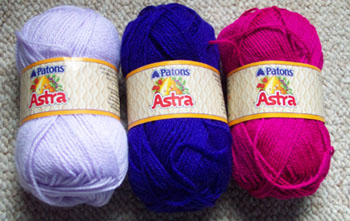 These are the yarn colors for Abby's sweater. They are lilac, dark purple, and fuschia. Again, my camera just didn't do justice to the colors. My plan is to finish the back of the first sweater, then do the back of the second sweater. I can't wait to see how the colors for Abby's sweater work up!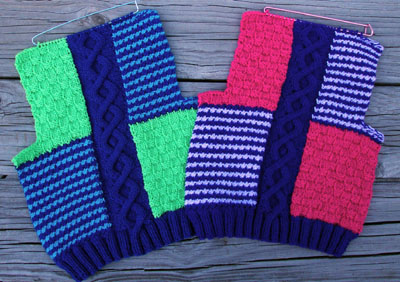 6/24/03 - Once again, I'm having trouble getting my camera to capture the true colors of these sweaters...believe it or not, the main color of one is a lovely blue, while the main color of the other is a deep purple! But, both backs are done, and I even (drumroll, please!) wove in all of the ends! I'm a good girl, honest I am!