Kureyon Felted Bag
Project Stats
| | | | |
| --- | --- | --- | --- |
| Pattern: | Kureyon Felted Bag | Started: | 8/23/2003 |
| Yarn: | Noro Kureyon, color #31 | Completed: | 9/10/2003 |
| Needles: | Crystal Palace, 16" US size 11 | | |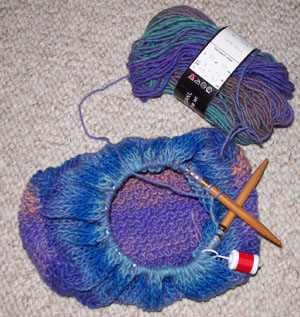 As though I need yet another felted tote...well, of course I do! Actually, this one will be more purse-sized than tote-sized, I think. The pattern doesn't have felted or unfelted dimensions, but based on the size of the bottom of the bag - maybe 5" x 10" - I think it will be quite small once felted. But it will be very cute! I love the colorway of this yarn: muted shades of blue, lilac, green and peachy pink. It reminds me of the last moments of a sunset, just after the sun slips below the horizon.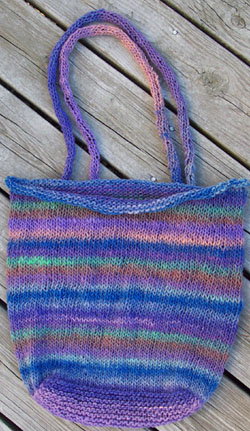 Here's the bag, unfelted...plus 6 feet of icord. I used every last inch of the three skeins of yarn! I also threaded shoelaces through the icord (well, knit them in, really) like I did with the market squares bag handles.
I think if I make this pattern again, I'm going to buy some metal needles - the Kureyon yarn is somewhat "sticky", like most feltable wools are, and the bamboo needles gripped the yarn so much that I had a hard time moving the stitches around the needles as I went. My arms ached if I worked more than 5 or 6 rows at a time.
Aside from that, though, it's a really easy pattern that I would definitely do again! I love the colors of the yarn, too, and can't wait to see how it felts!
Ta-Da! Here It is, all felted. I ended up having to make a second length of i-cord for another handle. The 6 feet I had felted down to 4 feet, which just didn't want to be two handles with knots on both ends.
Since I needed to buy another skein of yarn to make i-cord, I bought enough to play with the multi-directional diagonal scarf, too. Now I'll have a matching purse and scarf. :)
For the record: pre-felting dimensions were 16" x 11" x 5.5"; post-felting dimensions are 7.5" x 7.5" x 3.5"