Janda Pullover
Project Stats
| | | | |
| --- | --- | --- | --- |
| Pattern: | Janda | Started: | 6/14/2003 |
| Yarn: | Reynolds Tucson (cotton/acrylic) | Completed: | 9/18/2003 |
| Needles: | ribbing: US 6 (4mm); body: US 7 (4.5 mm) | | |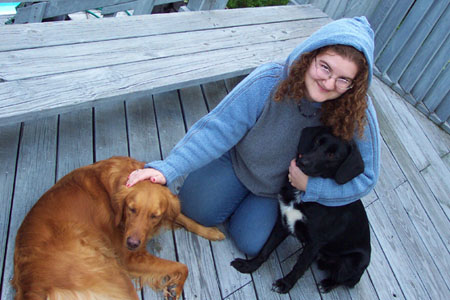 I love how this turned out! It's comfy, warm, and fits well. And best yet: the weather is perfect for it right now! I did decide to go with the "racing stripes", and the only thing I think it might be missing is a pocket on the front...but I may or may not actually get around to adding one!
In-progress pictures and notes are below.
---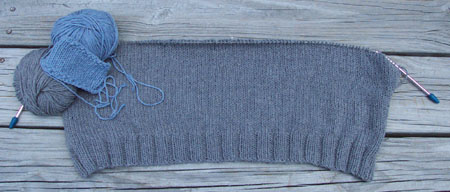 Here's the beginning of the back, plus my swatch in the blue that will be the sleeves and the hood. This yarn is fantastic - I think it's sort of a knitted tube, which makes it really feel like sweatshirt material, only nicer. The best part is, the yarn was 25% off!
Since this is a project for me, it's kind of slow-moving. It keeps traveling with me in my knitting bag, but doesn't get very much attention. I'll definitely have to finish it by fall, though, since if the finished product ends up as nice as it's started out, it's going to become my absolute favorite sweatshirt!
The back is done! I love the way the decreases turned out - I'm not usually happy with how my raglan sleeves look, but I can tell that these are going to work out well!

---

---

Sleeve 1...I had forgotten that since raglan sleeves make up part of the front and back - and the shoulders - they take forever! I like the detail up the middle, and I'm still debating about putting the stripes up the sleeves - fortunately, that's something I can decide at the very end - even after wearing it a time or two!