Square Bunny
Project Stats
| | | | |
| --- | --- | --- | --- |
| Pattern: | knitted bunny | Started: | 9/8/2003 |
| Yarn: | Berroco Furz (I think - the label wandered off) | Completed: | 9/8/2003 |
| Needles: | Size 5 US, 10" circular | | |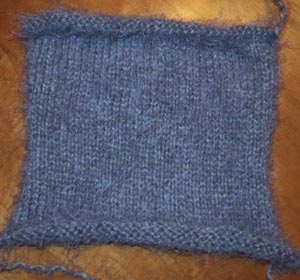 I stumbled on this pattern from Nanette's blog, that I stumbled on from a comment on Cindy's blog...everyone is such a bad influence on me! :D
In this case, though, I had bought a skein of this synthetic furry yarn to swatch, but it won't work for the intended project (yes, I'm still trying to find a mohair substitute for Grecian Plait. sigh.) So, it was a stash reduction project, right?
I knitted my slightly-larger-than-called-for 8 1/2" square in a little under two hours...
...and had a cute finished bunny about an hour of stuffing and sewing later. Three hours start-to-finish is definitely good for those "none of my projects are even close to done and I have to finish something" days!
Now I just have to keep him out of the reach of Murphy "Destructo-Boy", since he is extremely interested in tasting the bunny.