Fuzzy Feet
Project Stats
| | | | |
| --- | --- | --- | --- |
| Pattern: | Fuzzy Feet | Started: | 6/25/2003 |
| Yarn: | Brown Sheep Lamb's Pride - Amethyst | Completed: | 6/27/2003 |
| Yarn: | 16" US 11 circulars / US 11 DPNs | | |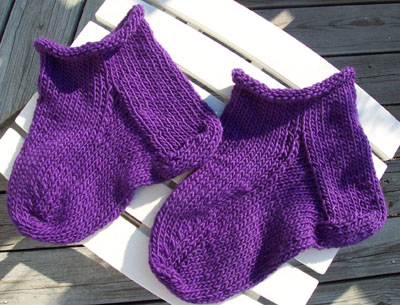 These Fuzzy Feet slippers are wild! It probably only took about 8 hours of knitting, total. (Note to self: could be a fantastically quick Christmas present...) I showed them around to people before felting, and got the oddest looks until I explained that I was going to shrink them. A lot. Well, after all, I don't think that there's anyone who might have been able to wear them, except maybe Hagrid. ;)
One ended up slightly smaller than the other, because I foolishly used DPN's for the entire first slipper, then switched to short circulars for the second, and my gauge came out a tad bit different. They still work, though. I also made the mistake of assuming that one skein would be enough, and had to make an emergency trip to the yarn store for a second skein to finish the toe of the second slipper. Fortunately, they still had the same dye lot in stock.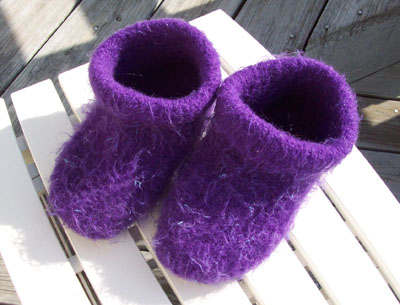 The only other problem was that the blue and purple towel I used for agitation - that I've only washed, oh, a thousand times - decided to pill, and now I have blue fuzzies on my purple fuzzy feet. Oh, well.
They took about 20 minutes to felt, then I let them go through the cold rinse and spin part of the cycle. I think maybe a few minutes shorter would have been better, or maybe hand-rinsing them, because they ended up almost too small!