Jayne Cobb Cunning Hat
Project Stats
| | | | |
| --- | --- | --- | --- |
| Pattern: | a combination of this, that, and my own little touches. | Started: | 9/7/2005 |
| Yarn: | Lamb's Pride Bulky, colors M-14, M-22, and M-97 | Completed: | 9/8/2005 |
| Needles: | US 10 circulars and DPNs | | |
If you haven't seen Firefly, I highly recommend it. It's a space western, and any attempt I make at describing it beyond that will make it sound stupid - but it's not. It's a great show, which sadly lasted less than a season. But... It's back as a movie, Serenity! For the premiere, I wanted to knit a hat modeled after the hat one of the characters gets in the last episode. (Pictures here and here.)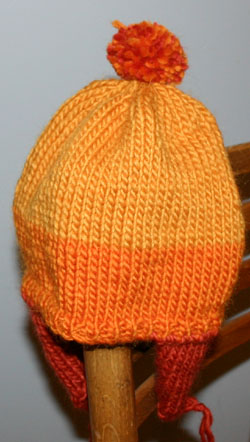 I'm not totally convinced that I picked out the right colors. I think my yellow isn't quite as bright as it should be. But I'm pleased with how it turned out and I might even wear it more because it's not quite so bright. I also think the pom-pom is a bit small or something - it also doesn't look quite right - but since it's the first time I've made a pom-pom (at least, that I can remember, I probably did something involving them at some camp when I was little) it's not too shabby.

And I have enough yarn left over to knit a second one, assuming I can convince Denis to wear one too...
---
9/21/05 Baby Jayne!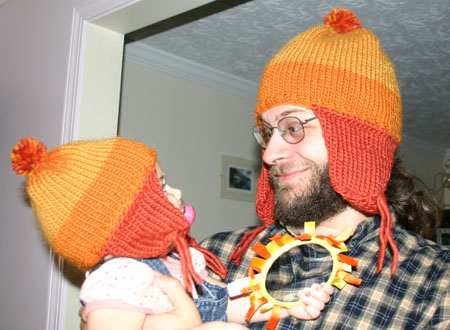 So not only did I have enough yarn to make a second adult hat, but I had almost enoough to make a baby-sized Jayne hat too! The last few rows of the top are in orange because I ran out of gold yarn, but it's really hard to tell from the pictures, and it also looks fine in real life. I used all but a yard or two of the orange, too, although I would have had a couple more yards left if I hadn't gotten picky about the pom-poms.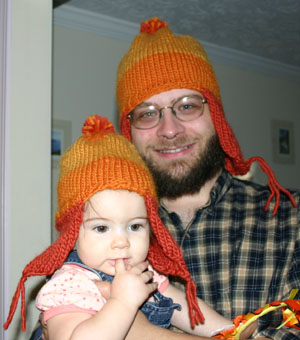 Seriously, though...

Have you ever seen such a cute pair?!? (Denis is going to kill me for this. But if he didn't want his picture in the silly hat on my blog, he shouldn't have put it on while the camera was in my hand!)

Oh, and the toy in Carrie's hand is actually a mirror with sun rays coming off of it. In case you were wondering. It does look a little strange. But I was using it to show her what the hat looked like, because she kept trying to pull that hat off her head so she could see it.