Tango Baby Sweater
Project Stats
| | | | |
| --- | --- | --- | --- |
| Pattern: | Sirdar #1519 | Started: | 5/1/2007 |
| Yarn: | Sirdar Tango DK, colors 155, 164 & 165 | Completed: | |
| Needles: | US 3/3.25 mm | For: | Ashlee |
---
July 15, 2007 - Poor little lopsided sweater!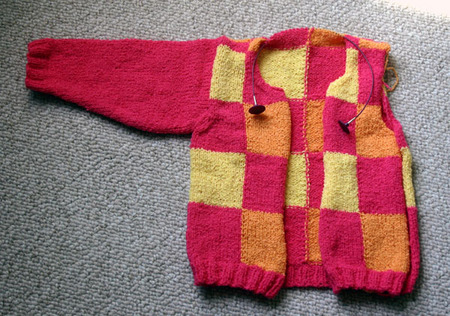 I stole the needles I was using for this to work on the mystery stole a few days ago. Heh. So I decided the least I could do was hide a million ends and sew up as many seams as I could. And I've also decided that I like it much better now that it's finally starting to look like a sweater. I ordered a second set of the needles in question so I can knit the second sleeve soon. (We won't discuss the fact that the baby arrived a month ago.)
---
May 30, 2007 - Slow progress.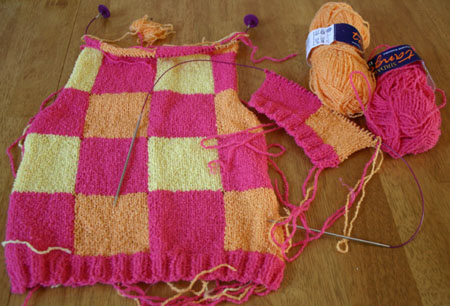 I'm not in love with this. Maybe I'll feel differently once it's finished. I don't dislike it enough to rip it, I'm just sort of indifferent. Which explains the incredible lack of progress. But since the baby this if for is due in just a couple of short weeks I think I'd better get back to work on it!
---
April 12, 2007 - Sunny baby sweater
I can't seem to knit with traditional pastels for baby sweaters. (Actually, I can't seem to knit traditional baby sweater sizes, either - I always make things around a 18 month size so they last longer!) Here's some bright Sirdar Tango and a cute checkered sweater for make out of it: