Anouk
Project Stats
| | | | |
| --- | --- | --- | --- |
| Pattern: | Anouk | Started: | 9/13/2004 |
| Yarn: | Classic Elite Star | Completed: | 10/6/2004 |
| Needles: | US 9's | For: | the pumpkin baby! |
Presenting...Anouk!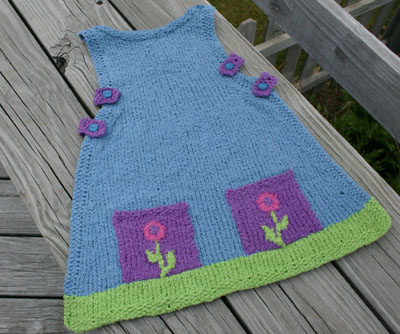 Ta-da! And the good news is I have enough leftover yarn that I think I can manage a little floppy hat to go with it - one of these days! I just love the colors, and the yarn ended up working surprisingly well. I had originally planned to use a smooth yarn, but the colors of this yarn were just so perfect I took a chance. It's been washed to shrink it to size, and the texture is fantastic! Of course, now it goes in the closet for at least a year, probably 18 months, before the baby will fit into it...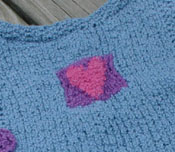 One little change I made was to add a small detail to the back of the dress - a little intarsia heart on a purple background. I figured since I had so much of the accent color yarns leftover, why not?
---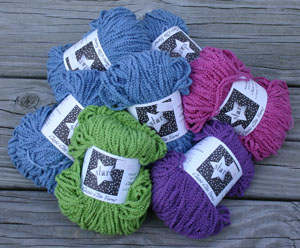 Ooh, look at the pretty yarn! Hopefully, if I ever get something resembling gauge, this will become the lovely Anouk pinafore. The blue is the main color, with green trim, purple pockets, and pink flowers. The problem with gauge so far is that the yarn is 99% cotton/1% lycra - and it shrinks when washed. So, no problem, knit a few swatches (US 5s, 6s and 7s), toss 'em in the wash, pick the one that works, right? Except, they've all shrunk way more than expected. Now I'm going to swatch on some huge needles (US 9s and 10s - trust me, it's not even worth trying the 8s) and see where I get.
9/14 - Attempt 1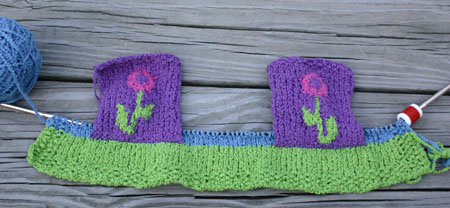 I had added several more blue rows after taking this picture, but then I decided the pockets were too far apart, so I ripped all that back out and have since re-knitted up to the tops of the pockets. (Yes, I decided to knit the pockets in rather than sewing them on later. Yes, that created more work, because I had to rip out. And yes, I'd do it again anyway, because I think they look better that way.)

I'm still trying to figure out how this is an 18-month size. I'm guessing it would fit my almost 5-year-old niece... Oh, well, the nice thing about kids is that they eventually grow into everything, right?