Digital Cameras
It probably means I'm not a "serious" photographer, but I definitely prefer digital photography. It's great for pictures of kids, dogs and large groups, because it doesn't matter if they don't stay still for a shot - you haven't wasted any film or processing.
Canon Digital Rebel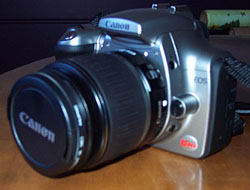 This has to be the best camera I've ever owned. It's digital. It's SLR. It takes all of the lenses and accessories I have purchased over the years for my film rebel. It's also going to be a tremendous learning experience, because it is so different from both my other digital and the film cameras I've used.
Kodak DC4800
This was my first digital camera. I've taken 4000 pictures with it in three years. It has done almost everything I've ever needed it to do. If it weren't discontinued, I'd highly recommend this camera to anyone looking for a high end digital point and shoot camera. This camera has earned a spot in my camera bag as a good backup, and will still travel as my only camera when I don't feel like lugging around several pounds of equipment.