Wedding Gift
Project Stats
| | | | |
| --- | --- | --- | --- |
| Pattern: | Joy of Matrimony | Started: | 7/2003 |
| Fabric: | 28 count linen | Completed: | 9/5/2003 |
| | | For: | Steve & Erin |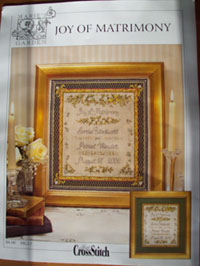 My cousin Steven (who will remind you that he is exactly one week older than me :P ) is getting married soon! I had a hard time picking out a pattern for these two - I wanted something fairly simple, but not...sparse? See? I don't even know what I was really being picky about. I found this pattern, which is anything but simple, and I didn't think the color scheme was really "them", but I knew it had potential.
Here is my interpretation of the pattern - complete with blueberries, a simpler border, a sparkly butterfly, and new wording: "Faith Hope Love" instead of "Joy of Matrimony". Oh, and I found out at the shower - weeks after starting this - that they have a blueberry theme. How cool is that?!?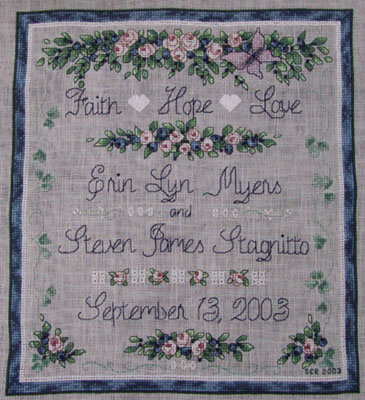 This one came down to the wire. I probably stitched it at least 1 1/2 times, considering the number of stitches I put in and then ripped out because they weren't just the right color. Thankfully, Andrea at Golden Thread Needlearts takes very good care of me, and promises the framed piece in plenty of time for the wedding!