So-Called Scarf, Hat & Mittens (Gloves?)
Project Stats
| | | | |
| --- | --- | --- | --- |
| Pattern: | my so-called scarf, hat pattern no longer available, mitten/glove pattern...in progress | Started: | 1/31/2005 |
| Yarn: | Manos Del Uruguay, color #107; Koigu PPPM, color #302 | Completed: | 3/7/2007 |
| Needles: | US 11 (scarf & hat), US 7, US 11, US 0 (mittens/gloves) | | |
March 7, 2007: Finished! Just in time for the (hopefully) last cold snap, here is the finished set!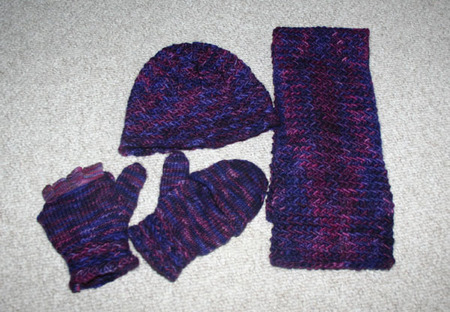 I'm really happy with how the mitten/glove duo came out, and even more pleased that the single skein of Koigu I had was enough for the lining and fingers of both mittens. In fact, I think I'll have to use another random skein I have laying around to make a pair of fingerless gloves. I had planned to add more to the scarf, but the leftovers of the third skein of Manos was slightly different - it had a lot more thin spots, and the colors were pooling - so I ripped out the rows I'd added and bound off the scarf. Generally, scarves this heavy tend to lengthen on their own anyway, assuming the stitch pattern doesn't keep it from stretching. I'm not thrilled with the hat, it's either a little too long or a little too short, but I'm going to live with it for now and see whether a bit of wear stretches it out a bit before ripping it back.
---
This has been one of those ongoing UFOs that has no reason to be - I love the stitch pattern, the yarn, and the end product...but for some reason, it's never been a priority to finish it. I'd like to stay toasty warm this winter, so I'm going to finish it before the first snow falls!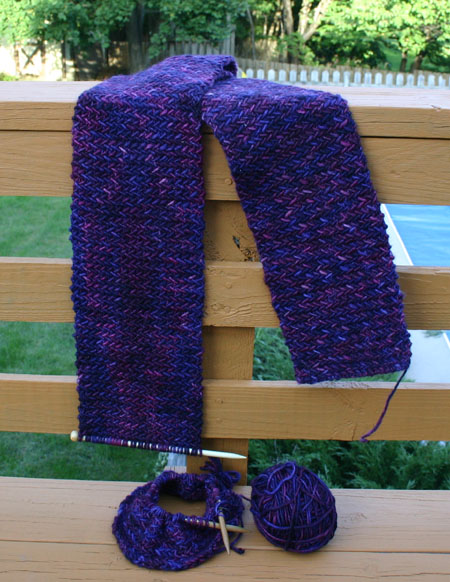 Here's the nearly finished scarf, and the hat (which has been finished since this picture was taken).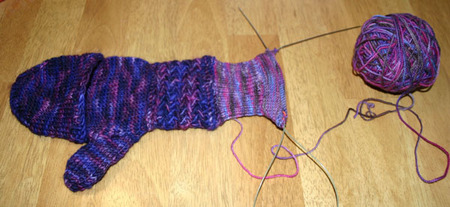 And here's a...mitten? Glove? What the heck is that?!? Well, see, it's a mitten, with a glove lining. Here's my plan. It gets cold here. Finger-numbingly cold. And I hate to wear mittens, because I have to take them off all the time to do things like find my keys in my pocket. But gloves don't really do much to keep the cold away. So I don't wear anything, and I walk around with very cold fingers in the dead of winter. I've been in search of the perfect fingerless glove/mitten combo and have never found it. So I'm making these up. They're Manos, knit at a fairly tight gauge, lined with Koigu. They're bound to be warm! (Maybe too warm...)