Suki Tote
Project Stats
| | | | |
| --- | --- | --- | --- |
| Pattern: | Suki | Started: | 7/4/2003 |
| Yarn: | Cascade 220 | Completed: | 7/11/2003 |
| Needles: | 35" US 11 circulars / US 11 DPNs | | |
Yes, another felted tote - although it will be very different from my first!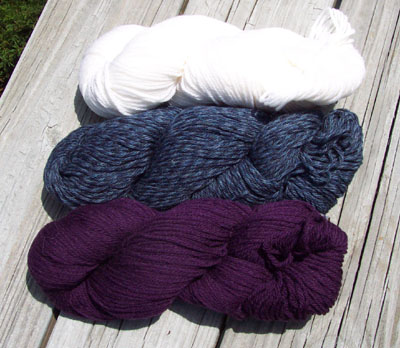 The denim twist in the middle will be the main color, with the purple and cream as wide stripes. I'm leaving off the eyelash the pattern calls for, because I just don't think it's practical with my two monsters, who are far more interested in yarn then doggies should be! Oh, and there are two skeins of each color, I just didn't put it all in the picture.
This yarn was my second blogging anniversary present to myself. (Like I really needed an excuse to buy yarn.) Actually, I figure I've been so good about finishing things lately, I had to add to my still huge but diminishing stash of yarn. OK, all justifications aside, I just love my other felted tote, but it's too fall-like to carry much during the summer, and these are currently my favorite colors!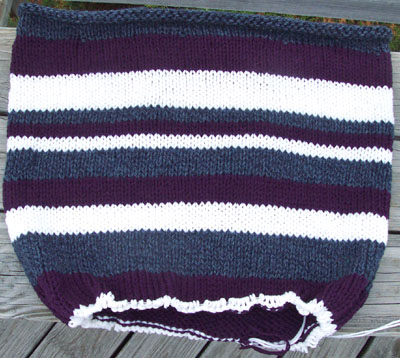 Based on Carolyn's advice - and my own misgivings about which color should be the main color - I decided to somewhat change the striping sequence. Even though mathematically there is as much of the main color in the original striping as each of the contrasting colors, the eye tricks you into seeing less of it. I also think, because I'm using yarn with slightly less yardage, that I'm going to need to go buy another skein of the blue to do the straps. We'll see. Any leftover yarn is going to be made into pockets to sew on the inside - the one thing that drives me crazy about the first tote is when my cell phone rings and I have to dig around the bottom of the bag to find it!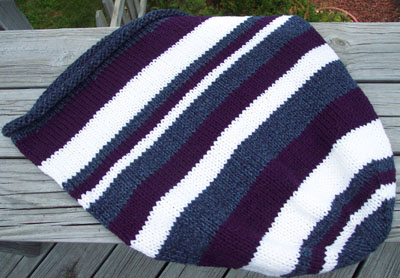 Unfelted size: 25" long, 45" around. I did end up weaving in the ends, instead of just tying knots - old habits die hard, I guess! I ran out of blue yarn after one strap, but decided to make the second one purple instead of buying another skein. I also knit a largish pocket: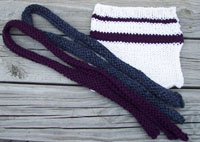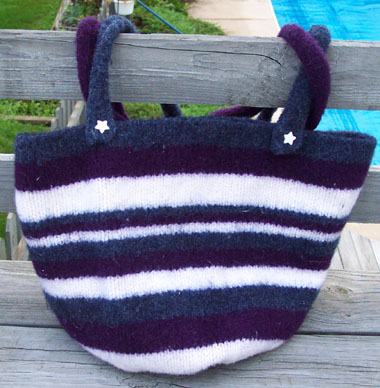 Felted size: 16 1/2" long, 41" around. I'm not so happy with the way this one felted. I almost think that the white yarn had been bleached, or somehow chemically treated differently from the colors, because the blue and the purple came out perfectly, but you can still see the stitch definition in the white. Hopefully, it won't affect the strength of the bag!
I added the star buttons on the outside to be decorative...I can't remember why I bought a couple of cards of star buttons - hopefully I won't get to whatever project that was and wonder where my star buttons went!