Marihøne
Project Stats
| | | | |
| --- | --- | --- | --- |
| Pattern: | Marihøne (Dale of Norway) | Started: | 10/10/2004 |
| Yarn: | Dale Baby Ull | Completed: | 9/25/2005 |
| Needles: | US 2/2.5 mm, US 0/2 mm | For: | Baby-to-be |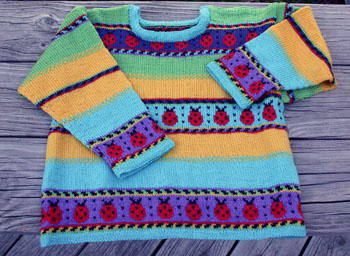 one, two, three,
four, five, six,
seven, eight, nine,
ten, eleven, twelve,
the ladybugs came to the ladybug picnic...
(wav file here)
---
9/25/05: Done!
Technically, this isn't exactly 100% finished, since it still needs buttons on the shoulder. But since I haven't been able to find ladybug buttons yet, I'm calling it done! There is also a matching hat which I still need to knit. (It's on the needles, though.) It's big - it started out slightly big, but it grew when I blocked it. I'm guessing Carrie will be able to wear this in first grade...

One thing I really liked about this pattern is that the sleeves have a facing at the top which is stitched down after sewing the sleeves into the armholes - it covers up the raw edges created by steeking. Very nice!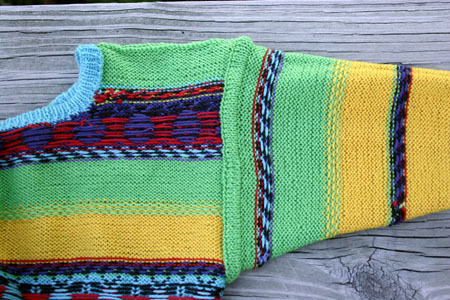 ---
9/22/05: Steeking!
For those that don't know what steeking is, basically, you intentionally take a pair of scissors to your knitting. Scary, isn't it? So, here's the sweater pre-steeking. It was knitted as a tube all the way up to the collar, so to attach the sleeves I needed to cut armholes. (And yes, that's the cleanest my craft room table has been in almost a whole year!)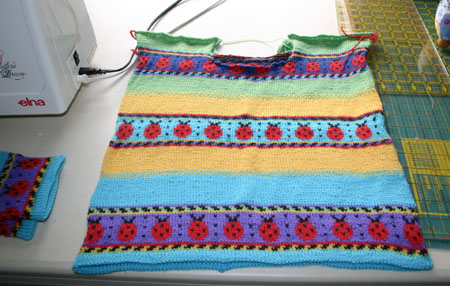 I measured the sleeves, marked the measurements along the side of the sweater, and used my sewing machine to sew two seams, 4 stitches apart. And then? I bravely took the scissors to the sweater I just spent most of a year working on. (On and off, that is.) I even paused, mid-cut, to take a picture!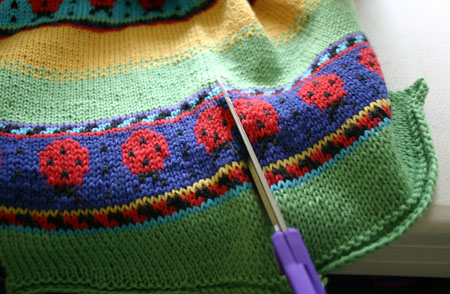 And here's the armhole after cutting: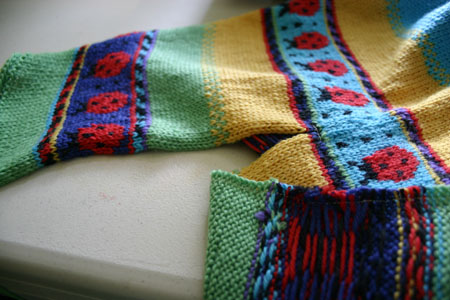 ---
8/15/05:

Well, it's been a while since my last update! The body of the sweater is done...well, sort of. If you don't count hiding a million ends and doing some steeking. (It's just so much fun to take scissors to something you just finished knitting.) I've also knit most of the second sleeve - which is going to become the first sleeve because having the appropriate length needles changed my gauge enough to make it look 100% better than the sleeve I knit last year. Anyone want 2/3 of a ladybug sleeve?
---
10/10/04: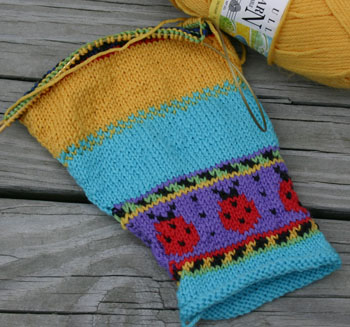 I couldn't resist, even though I just started the baby poncho a few days ago. All I was going to do was swatch, but it had to be done in the round, over the colorwork pattern, with 32 stitches...and the sleeve was only 55 stitches...and, well, the next thing I knew...poof! there was most of a sleeve! I don't really know how it happened...
One thing I do know, though, is that I wouldn't recommend trying to do the magic loop technique on a 24" circular needle. It's kind of hard. But by the time I do the second sleeve I should have another appropriately-sized needle in my hands to use.