My Handmade Christmas, 2006
Project Stats
| | | | |
| --- | --- | --- | --- |
| Pattern: | various (see below) | Started: | 6/2006 |
| | | Completed: | 12/25/2006 |
| | | For: | various people |
This year I started my Christmas projects extremely early: I cast on the first pair of socks in June! I wound up being finished with nearly everything before December 1st, with the notable exceptions of the quilted bookmarks and the man-sized denim socks. To be honest, those socks were actually finished on Christmas day...
Seven Pairs of Cute Kid-Sized Socks
A few years ago I made my oldest niece a pair of socks out of the leftovers yarn from a pair I'd made myself. Ever since she outgrew them, she's been hinting that she'd like more "Aunt Sarah socks". And none of my other nieces or my nephew had gotten their own "Aunt Sarah socks". So I knit socks for our five nieces, one nephew, and for Carrie: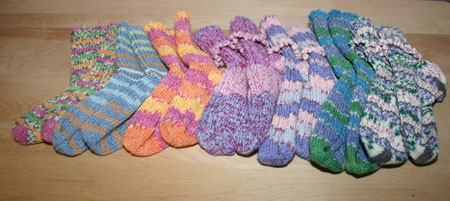 I have it on good authority that all of them fit with room to grow. Considering I didn't have the feet in question around to try them on every few rows, I'm pretty happy about that!
Four Baby Grab Balls
This is unbelievable to me, since I didn't even wrap these, I just tied a bow around them, but I didn't actually take a picture of them before giving them away. Luckily, I had made an extra for Carrie, so this is one of the four: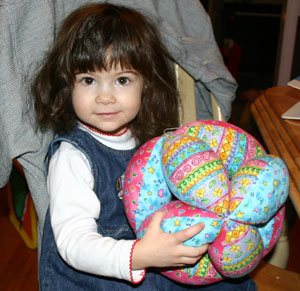 The pattern can be found
here
.
Four "Learn to Dress" Snakes
Buttons, zippers, snaps, laces, and velcro - and all on a nearly 6-foot-long colorful snake! This was a really fun project, if you don't count the very tedious process of cutting holes for eyelets and snaps. The pattern can be found
here
.

Three Santa Claus Mantel Runners
I wanted to make one of these for myself, and wound up making one for my parents and my grandparents on my mom's side. These were pretty quick to make, although the holly leaves on the hat brims are three-dimensional and making 30 of them was more work than I'd anticipated. The pattern can be found in the "Peppermint & Holly Berries" book from
Art to Heart
.


<
Two Christmas Tree Wallhangings
This is something I designed myself. My goal was to create a quilt that could be used in lieu of a Christmas tree as a place to hang ornaments. Denis' parents and my grandparents on my dad's side don't put up trees, but we'd like to be able give them ornaments from Carrie. They turned out about as close to my original vision as they could have, and I'm really proud of this project!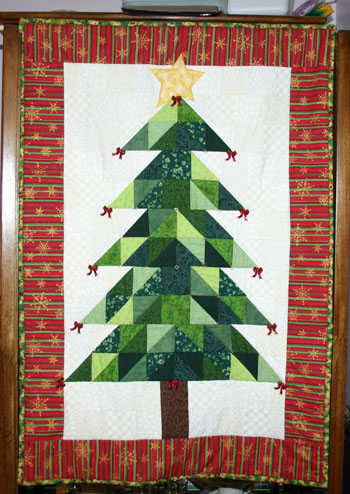 (They were identical, so I only took a picture of one of them.)
One Set of Facecloths
These were a stitch I'd never done before, which was difficult to do even with my super-pointy KnitPick's needles. But I like how they turned out. At some point I may have to order more of this yarn to make some for myself.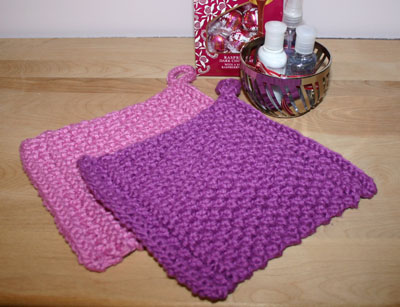 Snowflake Coasters
These were for my Sit & Knit gifts. They were knit in the round, felted, cut apart, and felted a bit more. It was the first time I'd felted anything in years, so I was a tad bit nervous after putting in all that time knitting. I wound up with several extras (because it was easier to knit 5 in the round than 3 for each color) so I now have a set of snowflake coasters of my own!

(This picture was before I cut them apart. I forgot to take a picture of the stack of them after cutting.)
Quilted Bookmarks
This year I decided to make bookmarks for my bookclub/playgroup friends. I thought it was neat that there were three of them and three different bookmark patterns. The best part? Every scrap of fabric, ribbon and thread came out of my stash! I adore projects that can be made from stash materials! The pattern can be found in the "Easy Does It For Friends" book from
Art to Heart
.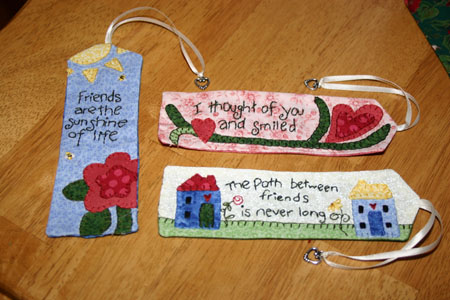 The Man-Sized Denim Socks
I am a bad knitting wife. Poor Denis has never had a pair of handknit socks. In my defense, he has a wool allergy. So the best sock yarns are out. I found this 60/40 cotton/acrylic blend that knits up just a bit thicker than sock-weight. While it's not ideal, it's at least a start. Maybe I can find better cotton blend sock yarns out there eventually... And they fit. This is not entirely a surprise, since I actually tried the first sock on one evening when he fell asleep on the couch. Somehow, even though he woke up when I was trying to get it off, he didn't remember!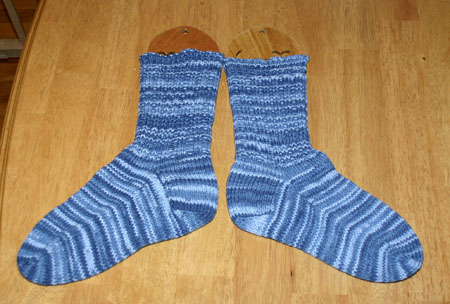 (These are being modeled on my new sock blockers - which, being sized for me, are a bit small for the man-sized socks!)
Truffles
No picture for these. They were yummy - I made dark chocolate & peppermint, milk chocolate & gingerbread, and white chocolate & eggnog truffles. Mmmmm. I wound up giving them to some people along with other gifts, because each batch of truffles made something close to 100 truffles. That's a lot of truffles...