Sailing Away Baby Sweater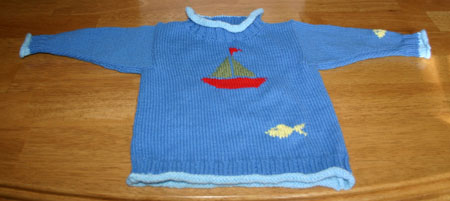 This sweater is a gift for Carrie's newest little cousin. I really loved doing the little intarsia fish and the boat. The sleeves look a little narrow at the cuffs, but I tried it on Carrie and it fit with no problems - I made the 1-2 year size, and it seems to be pretty close to most of her 18 and 24 month clothes. It's a lot easier knitting kids' sweaters now that I have a model!

This is the fourth pattern I've made out of this book - it was definitely worth the price!