Multi-Directional Diagonal Scarf

I've been wanting to do one of these for a while. Having 2/3 of a skein of Noro Kureyon left over from my felted tote was a perfect excuse to get 2 more skeins and start knitting! Above is the results of the first full skein.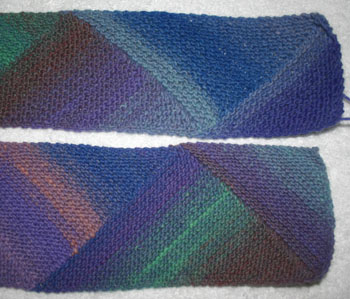 Update 12/31/03: I picked this up to work on after the Christmas gifts were done and decided I really didn't like the texture - it was too stiff. So I restarted it on bigger needles, which gave me a much softer scarf, and ripped the first attempt. Here are the two versions side-by-side. The top one is the one I ended up keeping.

And here's the finished scarf, just a few days later. I realized that it was taking so long the first time because the gauge was too tight, and it bothered my hands to work on it. After switching to the bigger needles, it practically flew off the needles!