Candy Corn (a.k.a. Devan)
Project Stats
| | | | |
| --- | --- | --- | --- |
| Pattern: | Devan | Started: | 8/22/2005 |
| Yarn: | Regia (solid) #1259, Marks & Kattens Clown #1724 | Completed: | 9/15/2005 |
| Needles: | US 2/2.5 mm, US 0/2 mm | For: | Carolyn |
Presenting...Devan! (a.k.a. The Candy Corn Sweater)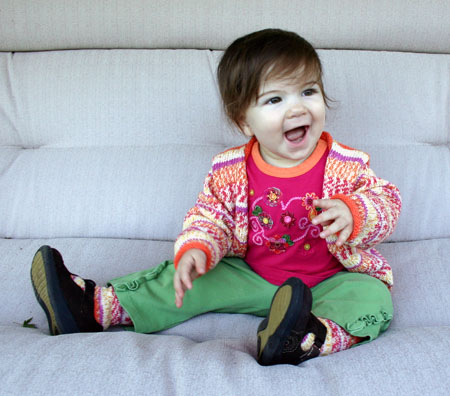 I love, love, love how this sweater came out. I'm thrilled with how the finishing went, and I even managed to find the absolute perfect buttons. Wait, what's that? You don't see buttons? Um, try getting an almost one-year-old to sit still long enough to button buttons! But here's another view: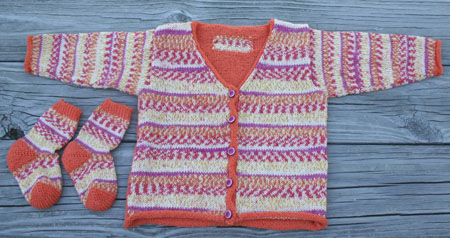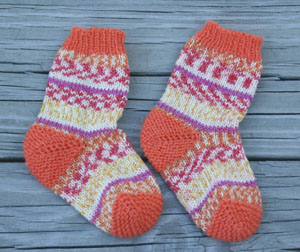 I knit matching teeny-tiny socks, and I plan to knit a matching hat - I just haven't gotten around to it yet. (I think I'll have plenty of yarn left over for a pair of socks for me, too!) The socks are different from the pattern I usually use. I wanted to make the toes, heels and cuffs solid orange instead of making the whole sock out of the striping yarn...but my usual pattern would have made that difficult. And for some reason I had a hard time finding short-row toe-up sock patterns - so I cobbled one together out of several different sock patterns.

---

This is the fantastic Devan sweater from Knitty. I've been wanting to knit this since the spring '04 issue came out! My mom, the best yarn shopper ever, bought this yarn for me right around when Carrie was born. (I think I was grumbling about not being able to go yarn shopping with her...) It's taken me a while to cast it on, but I'm so happy with how it's coming out! And it's a very fast knit - it only took me a day to do the left front, and the right front is zooming along. (Who wants to guess how long it will take me to knit the boring solid orange back? Any bets whether I'll get stuck on the second sleeve?)

The only annoying part - and this happens to me no matter what pattern I knit lately - is that I couldn't get anything close to gauge, so I had to re-figure the math out. I don't know if I just like a looser (and therefore softer) knit, but even when I swatched on my size 0 needles it was still too wide and it felt like a green scrubbie. On the 2's it's not that much wider but it drapes beautifully. So, I'm knitting the 0-6 month stitch counts and the 1-2 year lengths. Fortunately, the row count seems to be working out well enough for the neckline decreases. (Not that you can tell from the picture, because it's in desparate need of some serious blocking!)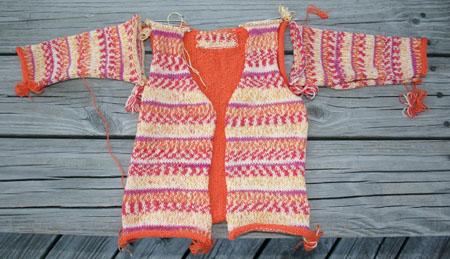 All the pieces are knit, it's just down to blocking, sewing, and button bands/collar. Sort of. I'm having a sleeve dilemma. This yarn only has one solid color stripe, the sort of magenta color, and it's quite a short length. For the fronts of the cardigan it wasn't a problem, but the sleeves are wider - so there are places on both sleeves where that color didn't go all the way across a row. Since I started the sleeves in exactly the same section of the yarn pattern, they're (almost) identical - meaning the places where the magenta color doesn't show up on one sleeve it doesn't on the other. Should be fine, right? Nope. Because...when you fold the sleeves in half and lay them down as though they're attached to the sweater, the back of one matches the front of the other.


See what I mean?

I'm debating whether to: 1) ignore it, because it's still cute; 2) rip both sleeves out and knit them in the round, eliminating the "pooling" effect of knitting back and forth; 3) rip one sleeve out and start it on the wrong side - theoretically, this would reverse the striping, but then I'd have to do my increases on the purl side and they probably wouldn't look the same. So, I'll probably step back from this for a little while. But not too long - I really want Carrie to wear this soon, especially since it goes really well with a lot of her fall clothes!