Socks, Socks, Socks
Project Stats
| | | | |
| --- | --- | --- | --- |
| Pattern: | various | Started: | 2003 |
| Yarn: | all sorts of fun, self-patterning sock yarns: Opal, Regia, Fortissima Cotton... | Completed: | |
| Needles: | two pairs of circular needles - mainly size 0 Addi Turbos, sometimes size 1 Addis | | |
Finished Socks: (click a thumbnail to see the pair of socks!)

---
In-Progress Socks: (click a thumbnail to see the socks!)

---
February 20, 2003
I tried really hard to resist the sock knitting trend. But then I saw a pair of knitted socks on someone's blog, and loved the colors, and, well, here they are:
(Note that they are "fraternal" socks - I didn't make any effort to have the stripes match, although I think I will next time.)
The absolute only reason I have the patience to do this is that I'm using the technique from the book Socks Soar on Two Circular Needles. I absolutely hate dpns. See, they have this awful tendancy to allow all of my stitches to just fall off the ends of the needles I'm not paying attention to. Circulars make me much happier!
It's starting to get warmer, so knitting big warm things won't be much fun, and I have enough sock yarn to make at least 8 more pairs of socks...so, this summer is going to be the summer of the socks.
---
July 2, 2003: The magic of knitting socks
When it goes from this...
(is it a sweater sleeve?)

...to this...
(aha! it's probably a sock!)

...and finally, a sock!
(yep, definitely a sock!)
But the real magic? When the pair is done!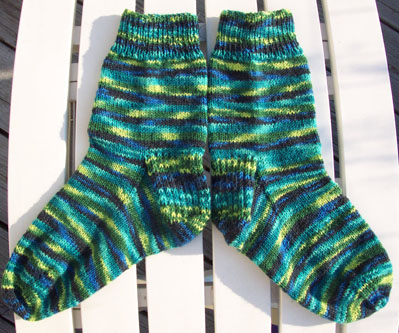 ---
August 26, 2003: Purple and Blue Stripes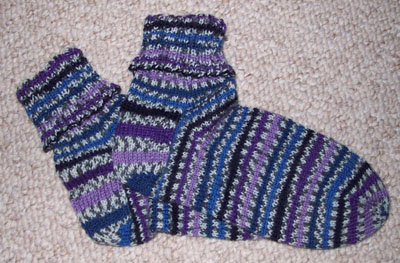 These purple and blue striped socks are the first I tried knitting toe-up...and they fit much better than the other socks I've made! (As a reminder to myself, this pair has 56 stitches around and used the size 0 needles.) I don't like how the ribbing stretches so much when I wear handknit socks, so I experimented. I made the ribbing the way I would normally, then knit a plain row, increasing 8 stitches, then did more ribbing. The cuffed part has more stitches so that when I wear the socks the tighter ribbing underneath the cuff keeps them up, and the cuffed part doesn't stretch as much and looks better. The plain row gives a neat cuff, which doesn't have a tendency to roll back up.
I really did try to make the stripes match this time, but somehow I think I did a row or two less on the foot of the second sock before I started the gusset, which made the heels extremely different. But that's ok - I just added a couple of rows to the cuff to make them end at the same color stripe. It's amazing what a difference being a row or two off can make!
---
October 10, 2003: Aran Sandal Socks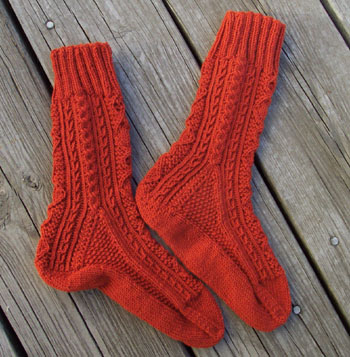 This is the first pair of non-stockinette/self-striping socks I've made. They're my favorites, too, for three reasons... First, I love the color. Second, I'm on a cable kick. Third, these socks only took me eight days to knit...the pair of them only took me eight days to knit. The other socks were taking more along the lines of a month.
The pattern is Aran Sandal Socks from Socks, Socks, Socks. The yarn is Rowan 4-ply Soft. The needles were size 2 Addi's.
(This may be enough to make me abandon all of my self-striping sock yarn stash in favor of solid cabled socks!)
---
January 8, 2006: Forest Socks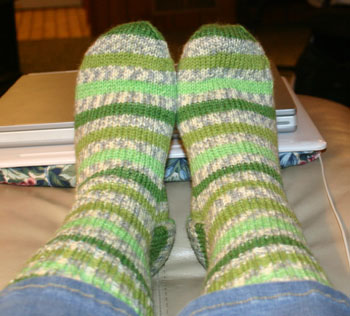 These socks are made from more of a sport-weight yarn than fingering weight. Very nice and toasty for the winter. They're a bit loose - I made them 52 stitches around, I think next time if I use the same yarn/needles combo I'll try 48 stitches, and make them a smidge shorter in the foot too.
I used the standard generic toe-up sock pattern that I always default to.
---
April 12, 2006: Lacy Scallops Socks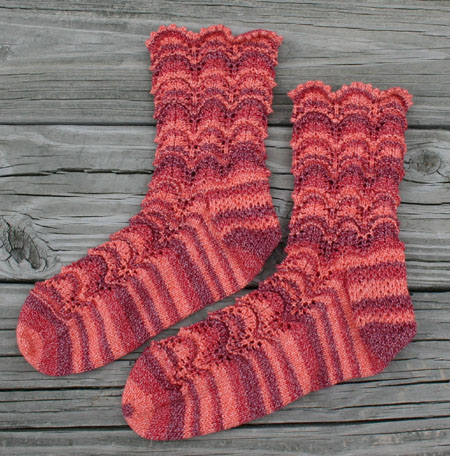 I made these socks for my sockapaloooza pal. The yarn is Regia Cotton Surf Color #5411 and the pattern is Lacy Scallops from sockbug. I really like how they came out, and wouldn't mind making a pair for myself someday!
---
May 23, 2006: Candy Corn Socks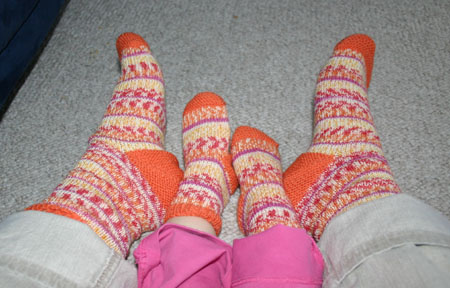 These socks just make me happy. I made Carrie a pair last fall, when I made her candy corn sweater. She really got a kick out of modeling our socks together!
The pattern uses the heel and toe from the chequerboard socks in Lucy Neatby's Cool Socks, Warm Feet book. The rest is just plain old generic sock-type stuff.
---
June 18, 2006: Falling Leaves Socks
Mmmmm...Koigu... This is Koigu color P511. The pattern is Falling Leaves from Knitty. I do love how the yarn and pattern work together, although I was very frustrated with this particular skein of yarn. I don't know if it was sitting in my craft room too long or just a bad skein, but there were 8 places where one or both plies of yarn were broken, so I have a lot of ends to hide - mostly in the bottom of the heel. Yuck. But I've already wound the other skein and it's one completely unbroken strand, so I'm going to guess I just got a bad skein. Update: So much for one unbroken strand - there were three weak points in the second skein as well. Hopefully it was just a fluke, because I love the results and plan to use this yarn again someday!
---
June - August, 2006: Kids' Christmas Socks

For Christmas this year I decided to knit all of our nieces and nephew (and our daughter) pairs of socks. These are, left to right, for Carrie, Phillip, Abby, Valerie, Katie, Michelle, and Lizzy. The kids range in age from 2 to 7, so all have relatively small feet. Most of the pairs took me a week to do, but the three oldest girls' socks (the ones with the turned-down cuffs) took two weeks each. Surprisingly, they all fit.
---
September 28, 2006: Jaywalker Socks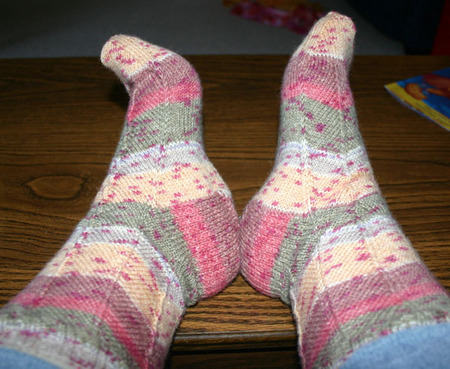 I love this yarn! It's Austerman Step yarn. It has aloe in it, and it's so soft and wonderful to work with. The pattern is the very famous Jaywalker pattern, and I love the way the stripes and the zig-zaginess work together!
---
October 28, 2006: Half-Pint Socks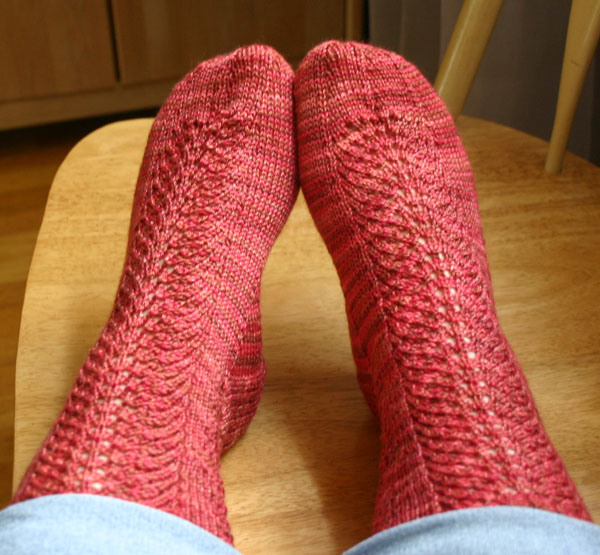 Both the yarn and the pattern are from Ellen's 1/2 Pint Farm, bought at a recent fiber festival. Hence the name, Half-Pint Socks. I absolutely love how these turned out. It was the first time I've done a round toe, and I like how non-pointy and comfortable it is. I knit these on 2.5 mm needles, as the pattern suggested, and I was getting the same gauge, but the next time I knit this pattern I might try smaller needles for a slightly tighter gauge. I actually had to decrease the stitch count by a few going down the leg because I was worried they'd sag, and I don't exactly have the most petite calves and ankles. Even though the math made my head hurt, it worked out, and they fit well.
---
December 25, 2006: Denis' Denim Socks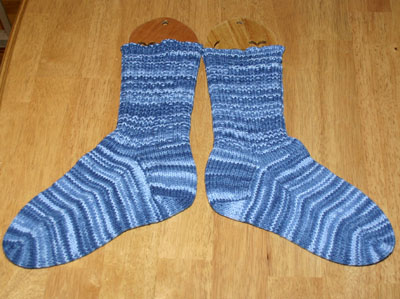 I'm a very bad knitting wife. I've hardly knit anything for Denis, and never socks. The main problem is that Denis has a wool allergy. And I challenge you to find sock yarn that's currently available that is wool-free. (Update: there seems to be a new option out there, Crystal Palace Panda yarn. I need to get my hands on some.) What I did find was more of a light sport weight, but I decided to go with it and make some man-sized Christmas socks. They're a tad bit loose, but have generated interest in more hand knit socks. Off to go find cotton sock yarn...
---
March 28, 2007: Pomatomus Socks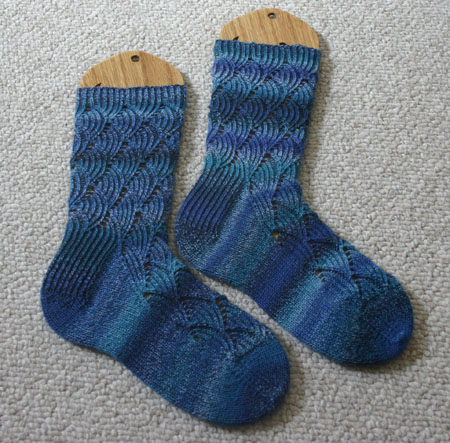 The famous Pomatomus socks from Knitty. What can I say? I'm probably the last blogging knitter to make these. They're not as hard as I expected, but definitely not mindless TV knitting. I'm glad the ribbing is super stretchy, because the sock looks so tiny on the needles!
---
August 5, 2007: Lombard Street Socks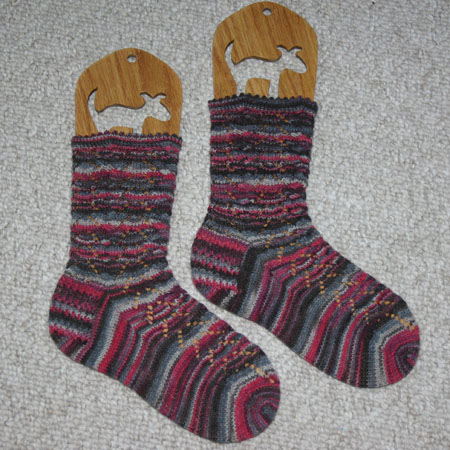 These are the Lombard Street socks from Magknits. They're also for my sockapalooza 4 pal. I'm not completely thrilled with the way the pattern shows up doesn't show up with this yarn, but they're still pretty. I think my pal will like them.
---
Girly Socks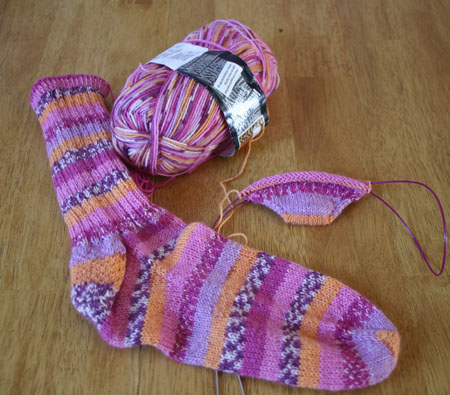 There's just something about this color combination that makes me happy! They're my standard toe-up sock "recipe", although I did do a slightly fancier heel flap than usual. I'm sure I'll have enough left over for a pair of mini girly socks. And I bet if there's enough left from that for a pair of super-mini (doll-sized) girly socks, Carolyn will absolutely expire from joy.